We have postponed this event due to COVID 19 precautions so it will not be held in October as previous planned. We will leave the application open and we encourage artists to apply. We will update this page and send applicants more information about a new date for the event when it becomes available.
Artists and organizations will take over the rooms at the Heliotrope Hotel and create interactive art displays, performances and music will be all over the hotel grounds, and food trucks will keep everyone's bellies full. All ages are invited to come wander the hotel and grounds, listening to music, participate in immersive art experiences, sip beverages and eat their way through food trucks. Admission for the event will be $10 for adults and free for children under 12.
Artists aren't handed the keys of their rooms until just a few hours before people begin showing up – so it's a real feat of planning and swift artistry. They also need to completely move out and leave the room as it was after the event!
Rooms will vary from performances to installations to having items on display for sale. Featured artists and organizations are all active Allied Arts of Whatcom County members and have helped to make Whatcom County known for the arts locally, regionally and nationally.
Allied Arts of Whatcom County is a nonprofit 501(c)3 corporation dedicated to the arts in our region by empowering local artists through organized festivals and events, enriching our local school children through educational outreach programs, and working as a liaison to art enthusiasts of all ages to help make our region a creative, vibrant place to live.
The Heliotrope Hotel is a 1950's motel turned modern Pacific Northwest headquarters for hospitality, relaxation, and recreation. The owners – artists and designers, entrepreneurs, educators, parents, avid adventurers, and community contributors – are locals who care about this unique northwest corner and their guests' experience here.
*Parking Info* Parking is not available on the Heliotrope Hotel grounds. We encourage visitors to walk, bike or bus (WTA bus #232) to this event. Street parking is available in the surrounding neighborhoods, but please be courteous of residents and obey all parking regulations.
If you would like more information, please contact Kelly Hart at 360-676-8548 or kelly@alliedarts.org.
Online ticket purchasing is now closed, but you can still purchase tickets at the gate! See you at the Heliotrope!
Baker Creek Ceramics – Deb McCunn:
Come see Ruth Bunny Ginsburg and a tribute to Emma Gonzalez, the young gun safety activists from Marjorie Stoneman High School in Florida.
Studio X – Francis X. Donovan:
The constantly creative Francis X. Donovan is relentless in his desire to sculpt and build, leaving no rocks unturned in his craft. This exhibition will feature selections from his studio space, informally named "Studio X," in ranging media including painting and carving.
Ellen Clark & Andy Koch:
Visual and performing arts collide with Ellen Clark and Andy Koch. Come witness their collaborative masterpiece.
Heady Virtual Reality:
Explore virtual reality, the most immersive way to play video games, watch movies, or create digital art. Let the people at Heady Virtual Reality take you to a whole new reality.
Betty Desire:
Have a story time with one of Bellingham's iconic drag queens, Betty Desire.
Northwest Ballet – John Butler:
Come see Company dancers from Northwest Ballet Theatre in costume having fun and doing a few dance moves! Their next performances will be The Nutcracker in December at Mount Baker Theatre and McIntyre Hall.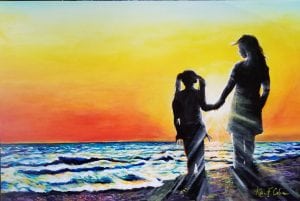 Kevin Coleman & Rachel Simpson:
The collaboration of both artists, Kevin Coleman and Rachel Simpson, are bringing all the lights and glowing art in sculpture and 2D form, in their art installation under black lights, for a full immersion of an experience for our guests to be a part of our world both above and below the water.
Wandering Oaks Gallery – Toby and Sheri Ten Eyck:
A combination of fused glass and abstract paintings coming out of the studio at Wandering Oaks Gallery. Large pieces, small pieces, indoor pieces, outdoor pieces, and even a painted door.
Bellingham Storytellers Guild:
A short, freely adapted retelling of a smattering of tales from the sprawling 17th century novel by Miguel de Cervantes. Enjoy a lively and colorful selection of madcap adventures of Don Quixote and his faithful Squiress, Sancha Panza. These include a heartfelt romance and reflections on the human condition told via a combination of puppetry and storytelling, a.k.a. PUPPETELLING. Original, live story theater for all ages combines repurposed paper puppets on an artful set with singing puppeteers; heartfelt and sincere comedic efforts made possible, all, in part of, or brought to you by, a moment of inspiration and the generous help of your own imagination!
Glitt3r Lyfe – Aireekah Laudert:
Glitt3r Lyfe sells a selection of carefully crafted and curated shiny, magical, beautiful and hilarious items to help enhance your awesome life.
Bellingham Metal Arts Guild:
Bellingham Metal Arts Guild is a Non-profit providing educational classes, workshops, lectures, demonstrations, community involvement, and networking.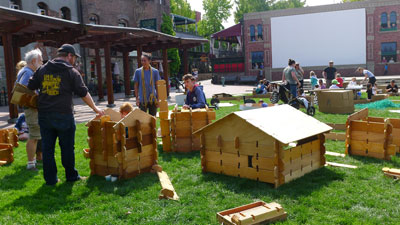 Builder Boards – Jack McKee: Bring the little ones to explore the play houses built by the creative Jack McKee with his builder boards.
Kids Art Activity – Jacquie Bresadola: Let the kids explore their creative side with Jacquie Bresadola!
3:00 PM – 4:00 PM – State Parks:
State Parks is an Alt Rock band based out of Bellingham, WA.
4:40 PM – 5:40 PM –
The Sweet Goodbyes – Amber Darland & Lisa Harmon:
The Sweet Goodbyes are a Bellingham, Washington based folk duo. Amber Darland and Lisa Harmon have been performing individually throughout the Pacific Northwest for many years. In the spring of 2015, the two Bellingham based singer-songwriters discovered a kindred voice in each other and decided to launch the folk duo, The Sweet Goodbyes. This collaboration has revealed strength beyond the sum of its parts. With intricate melodies, weaving harmonies and lyrics that are both political and deeply personal, The Sweet Goodbyes offer their audiences a chance to witness something rare. Amber Darland and Lisa Harmon wear their hearts on their sleeves and together their voices blend flawlessly. You can't help but feel good when you watch this duo perform live. The Sweet Goodbyes are full of charm and talent – sure to prick the ears and put a shiver up the spine.
6:00 PM – 7:00 PM – Tango Cowboys – Rich Hinrichsen & Tom Bourne:
The Tango Cowboys is a duo that performs fun-loving music from America (North and South), specializing in vocal tangos and cowboy songs from the 1930s and 1940s and beyond. They tell stories of their songs directly to the audience,  inviting them to journey from the open range of the wild west and the small cafe in Buenos Aires. In January the Tango Cowboys released their first CD and presented three workshops and a showcase performance at The Bellingham Folk Festival.
Sage Against the Machine:
 Sage Against the Machine believes that good health is essential to happiness and happiness is the key to a fulfilled life. That is why it's their mission to provide healthy wholesome plant-based food for the soul.
Herb's Cider:
Herb's Cider is a craft cider produced by world renowned drummer, Tim "Herb" Alexander and award-winning Cider Maker, Chris Weir. Herb's Cider uses only 100% organic Pacific Northwest fruit for their sophisticated, bright, effervescent and flavorful ciders. They are dedicated to the craft of fine cider making and use only traditional methods. They do not add sugars (back-sweeten) or anything to flavor their end products.
Boundary Bay Brewing:
Independently owned and operated, Boundary Bay has been making great handcrafted beer and fresh, local food for the Bellingham community since 1995. Boundary Bay Brewery houses a Taproom and family-friendly Bistro, located in a restored historic 1922 warehouse in Downtown Bellingham, across from the Saturday Farmer's Market.
Simmering Tava:
One of things that is perfectly clear: "Better Ingredients make Better Food which makes a Better Person."  That is why Simmering Tava's focus is always on finding and using local, natural and organic ingredients when creating Indian food for the people of Bellingham.
The Scone Lady:
Enjoy fresh scones and other baked goods from the Pacific Northwest. The Scone Lady has something to satisfy your sweet tooth.